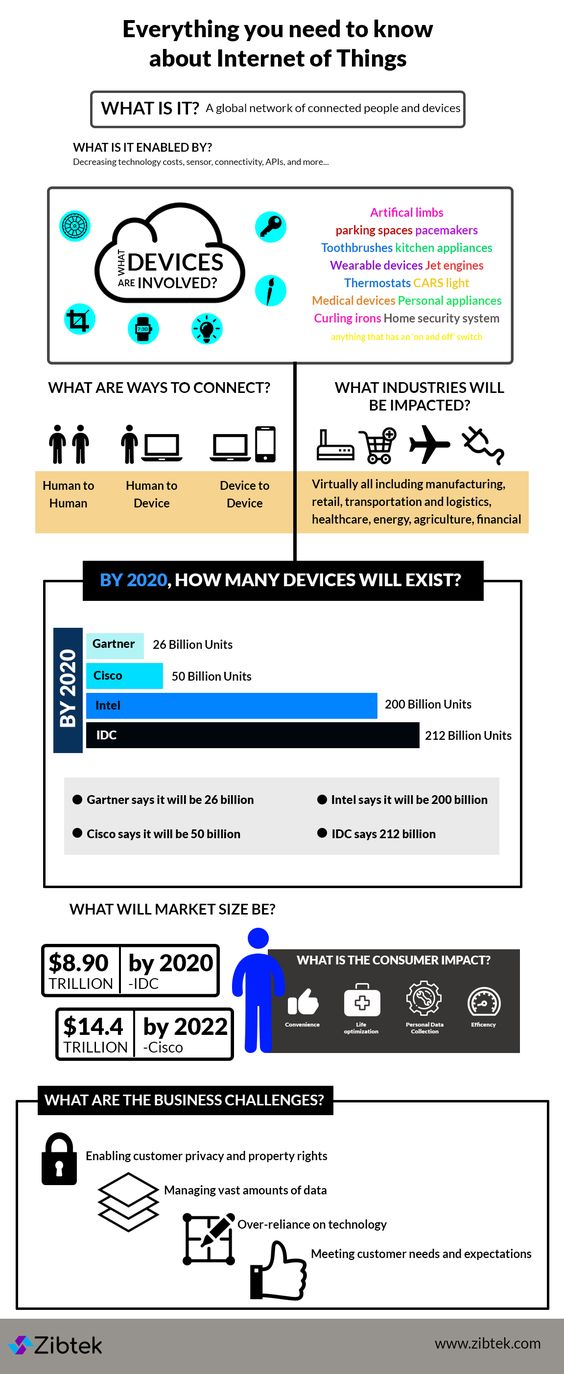 What Is It? A global network of connected people and devices
What Is It Enabled By? Decreasing technology costs, sensor, connectivity, APIs, and more.
What Devices Are Involved?
Artificial limbs
Parking spaces
Pacemakers
Toothbrushes
Kitchen appliances
Wearable devices
Jet engines
Thermostats
Cars
Medical Devices
Personal appliances
Home security systems
Curling irons
What Are Ways To Connect?
Human to Human
Human to Device
Device to Device
What Industries Will Be Impacted?
Virtually all including manufacturing, retail, transportation and logistics, healthcare, energy, agriculture, financial.
By 2020, How Many Devices Will Exist?
Gartner 26 Billion Units
Cisco 50 Billion Units
Intel 200 Billion Units
IDC 212 Billion Units
What Will Market Size Be?
$8.90 Trillion by 2020 - IDC
$14.4 Trillion by 2022 - Cisco
What Are The Business Challenges?
Enabling customer privacy and property rights
Managing vast amounts of data
Over-reliance on technology
Meeting customer needs and expectations