Watching a Monty Python skit is like taking a bewildering yet delightful journey into an absurd world that on the surface seems chaotic but, in truth, is meticulously crafted with brilliant comedic precision. It's where the unconventional thrives and the untried becomes cutting-edge.
You might or might now know that the Python programming language is named after the famed British comedy troupe. Its inventor, Guido van Rossum, wanted a name that was unique and slightly mysterious. As luck would have it, he happened to be reading the published scripts from "Monty Python's Flying Circus," the 1970s BBC comedy series, as he was developing the multipurpose language. And thus, Python was born.
How to Choose the Right Python Development Company for My Project
When searching for a Python development company, you'd be well served to look for one that offers as innovative an approach to Python development services as Monty Python did for sketch comedy. How so?
Monty Python scripts typically feature shrewd twists and turns—just when you think you know how a scene will play out, an unexpected element turns it on its head. Development projects often involve unexpected technical or logistical challenges, roadblocks, and detours before reaching a successful and satisfying conclusion.
While each member of the comedy troupe was funny in their own right, it was the seamless collaboration of the ensemble that created a comedic harmony few other groups have achieved. Software development projects thrive on teamwork, with each team member bringing their unique skills and talents to the table.
Though most scripts had unconventional or silly resolutions, they avoided comedy cliches. The best software developers also aren't afraid to think outside the box and find creative solutions to complex problems. They know that successful projects often involve breaking traditional patterns and exploring innovative approaches.
What about that prevailing belief that software engineers lack a sense of humor? In truth, Python development teams often employ tech and coding humor to foster creativity, collaboration, and problem-solving in their journey of building software solutions.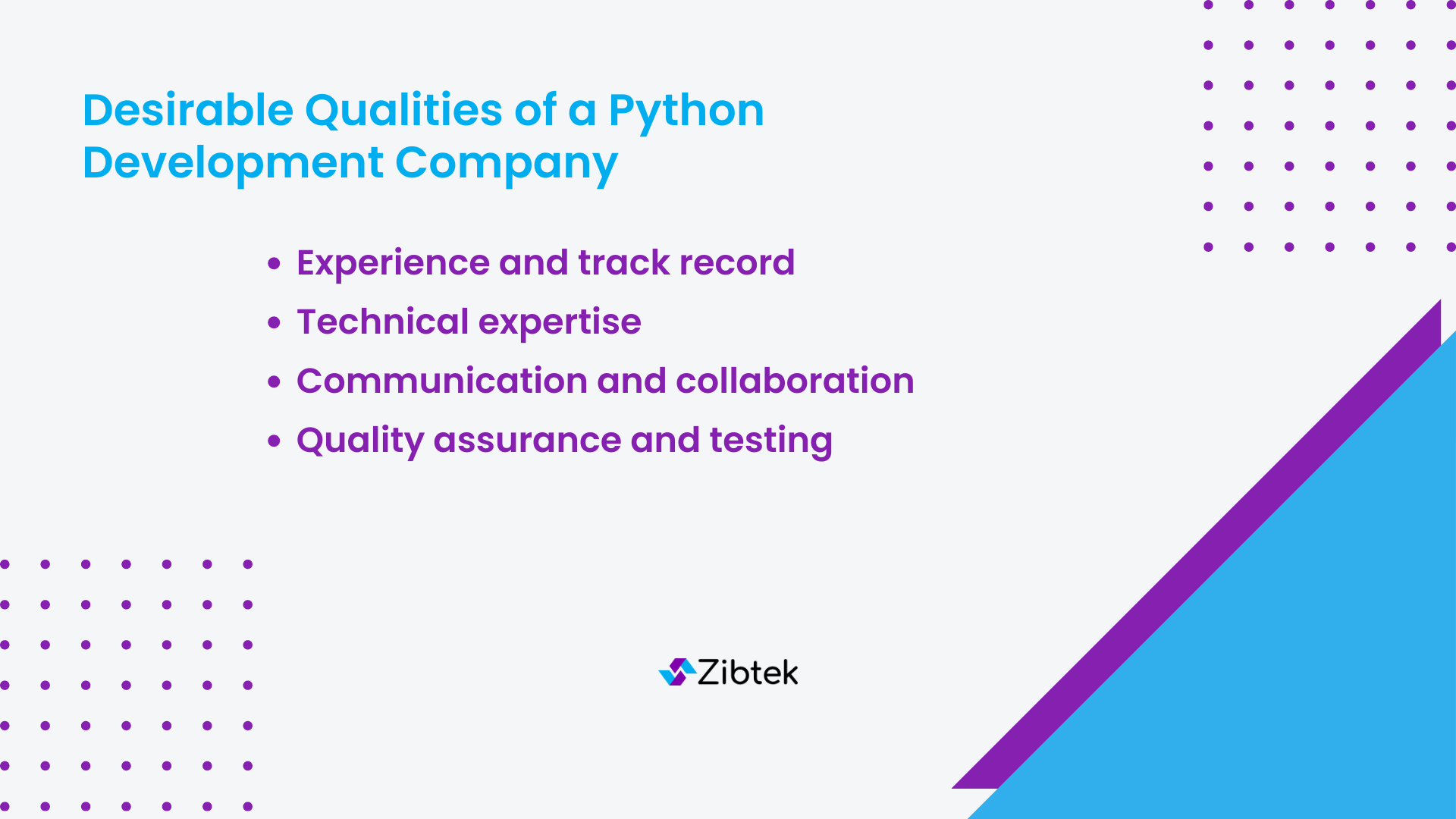 Desirable Qualities of a Python Development Company
Google, Netflix, and Instagram love it. So do Reddit, Spotify, and ChatGPT. Python's flexibility, versatility, reliability, and speed have made it the language of choice for building high-performing and responsive web applications and internal systems.
If you can find Python development services from a company with these desirable qualities, you're on your way to unlocking your project's full potential.
Technical expertise. A highly skilled team of developers proficient in Python programming and its related frameworks, libraries, and tools ensures a deep understanding of Python development best practices, coding standards, and industry trends.
Experience and track record. You want a company with a proven track record of delivering successful Python projects. Engineers should be familiar with diverse industries, project complexities and be able to tackle various challenges.
Problem-solving ability. Seasoned Python development companies are adept at analyzing complex requirements, identifying optimal solutions, and efficiently resolving technical issues that arise over a project's lifespan.
Communication and collaboration. Look for a company that prioritizes transparent communication, actively involves clients throughout the development cycle, and provides regular progress updates.
Flexibility and adaptability. Tech landscapes are forever in flux and it's not unheard of for requirements to change in the middle of a project. Your development team should be open to incorporating changes while maintaining the project's integrity.
Quality assurance and testing. A development company that emphasizes vigorous quality assurance and continuous testing is worth its weight in gold.
Reviews and client references. Online feedback and testimonials from earlier clients are two of the best ways to gain insight into a company's reputation, project management skills, and client satisfaction.
Continued support and maintenance. Your project doesn't end at launch. The company's Python development services should include post-development support, maintenance services, and prompt bug fixes.
Security and confidentiality. Ensure a company has strong security measures in place to protect your sensitive information and intellectual property.
Value for investment. While cost is always a software development concern, focus on finding a company that offers the best value for your investment. Consider things like expertise, quality of work, ability to meet deadlines, and overall client satisfaction when evaluating their pricing.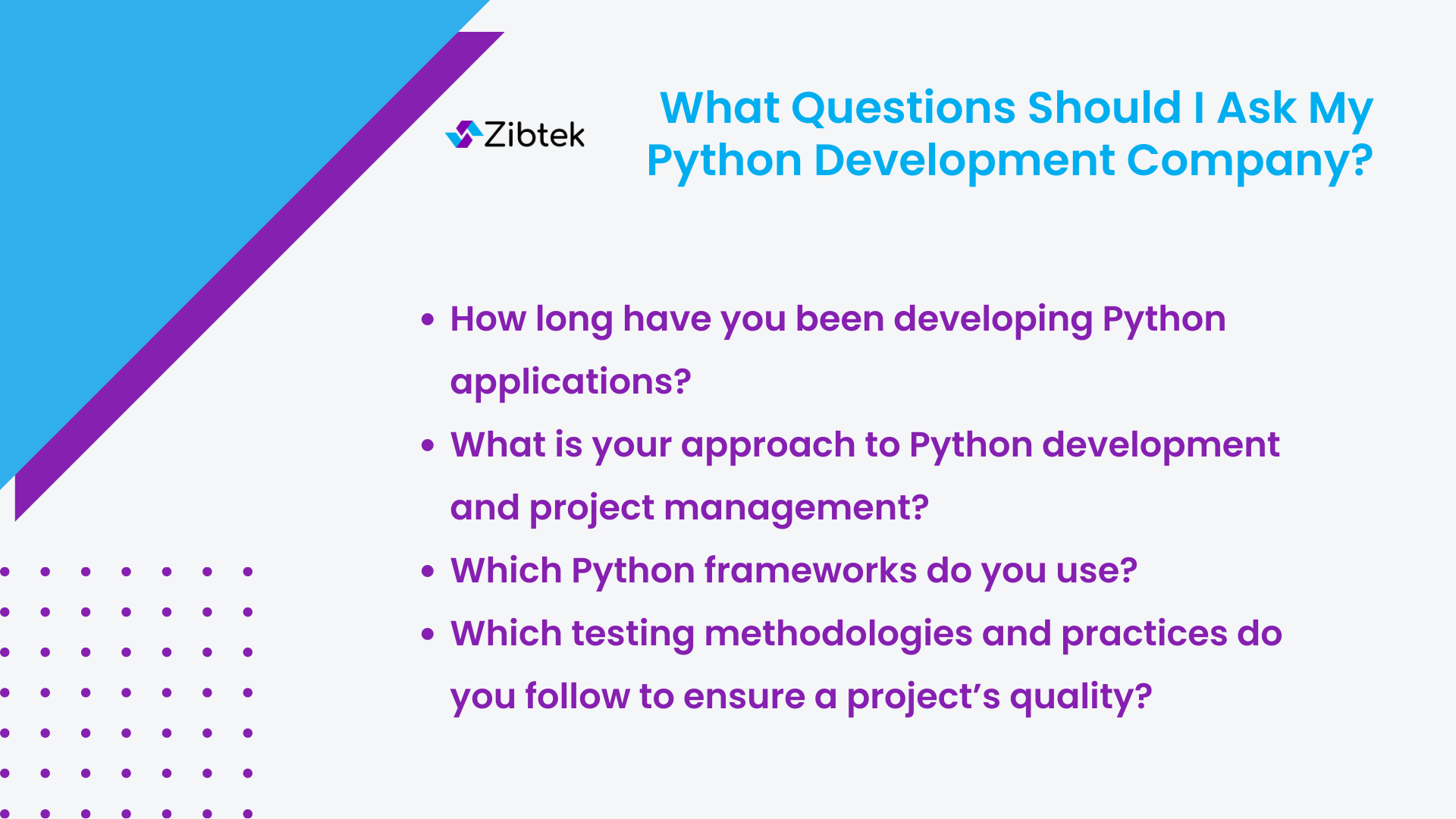 What Questions Should I Ask My Python Development Company?
Want the quick scoop on your Python development company of choice? Pitch these top 10 questions their way to measure their coding chops:
How long have you been developing Python applications?
Can you provide me with examples of Python projects you've delivered?
What is your approach to Python development and project management?
Which Python frameworks do you use?
Do you have adequate resources and capacity to handle my project's requirements?
What Python frameworks and libraries do you commonly use?
How do you handle project milestones, deliverables, and potential delays?
Which testing methodologies and practices do you follow to ensure a project's quality?
What post-development support and maintenance services do you provide?
What are your pricing structure and payment terms?
Of course, if your project has specific or unique requirements, you'll want to throw in some additional questions and discuss any concerns you might have.
Check out this short on our top 3 qualities we look for in a Python developer
What Can I Expect From Python Development Services With Zibtek?
Python development requires innovative problem-solving, efficient code architecture, and cutting-edge solutions. Zibtek has a well-earned reputation for delivering remarkable software solutions. We do it by exploring unconventional approaches, keeping current with industry trends, and bringing fresh perspectives to the development process.
If you want a dynamic and forward-thinking approach that pushes the boundaries of what's possible, choosing Zibtek for your Python development services is a slam dunk. Our team of highly skilled engineers can bring your software project to life like few others can.
Are you ready to embark on a software development journey of limitless possibilities? Schedule a meeting with us today to learn how we can bring a touch of "Python magic" to your project, creating groundbreaking solutions that leave a lasting impression.