Dedicated software development teams are growing in popularity, particularly with companies looking for productive, cost-effective ways to build business-critical tools. Whether you want to build such a team to cover periodic resource needs or to beat your competitors to the punch, the model provides you with a multidisciplinary team of professionals who help you meet your software goals. And the team you put together can be the difference between a pennant race and languishing in the cellar.
Yep, we're heading out to the baseball stadium for some peanuts, Cracker Jack, and education on what a winning development team looks like.
You don't need to be a baseball fan to know who the Yankees are. One of the most successful professional sports teams in the US, they've won an amazing 27 World Series, an MLB record. They've had incredible lineups over the years, but most game historians agree the 1927 team featuring Babe Ruth, Lou Gehrig, and Bob Meusel (nicknamed "Murderer's Row) was the best of all time. What made them so great was a combination of good management, record home runs, and player expertise that swept away the competition. To this day, the Yanks remain the gold standard that all other teams are measured by.
Now consider another New York team, the Mets. The 1962 inaugural team remains a historical example of how poor talent and a lack of cohesiveness can lead to disastrous outcomes (apologies to any Mets fans in the audience, but a fact's a fact). The team lacked talent and experience, with many players past their prime or not yet developed. Inconsistent pitching, an error-prone defense, and few runs made them a symbol of team futility, even with the legendary Casey Stengel as their manager.
Just as the Yanks set a gold standard in teamwork and the Mets proved how a lack of talent and synergy can lead to a worst-case scenario, the dedicated software development team you build can be one where each player complements the other to achieve success or one that grapples with missed deadlines, budget overruns, and low-quality output.
Here's how to ensure your efforts result in a team that delivers a grand slam every time.
What Characteristics Should I Look For in Dedicated Software Development Team Members?
Putting together a dedicated software development team is no simple feat. It isn't just about having a large budget or scouting for only the most talented engineers. It's a complex, nuanced process that calls for strategic thinking, long-term planning, and a thorough understanding of what a dedicated team does.
The right skill sets, team chemistry, and a shared vision for the project are a good start. Other characteristics to focus on include:
High level of professionalism
Good communication skills
Clearly defined roles within the team
Adaptability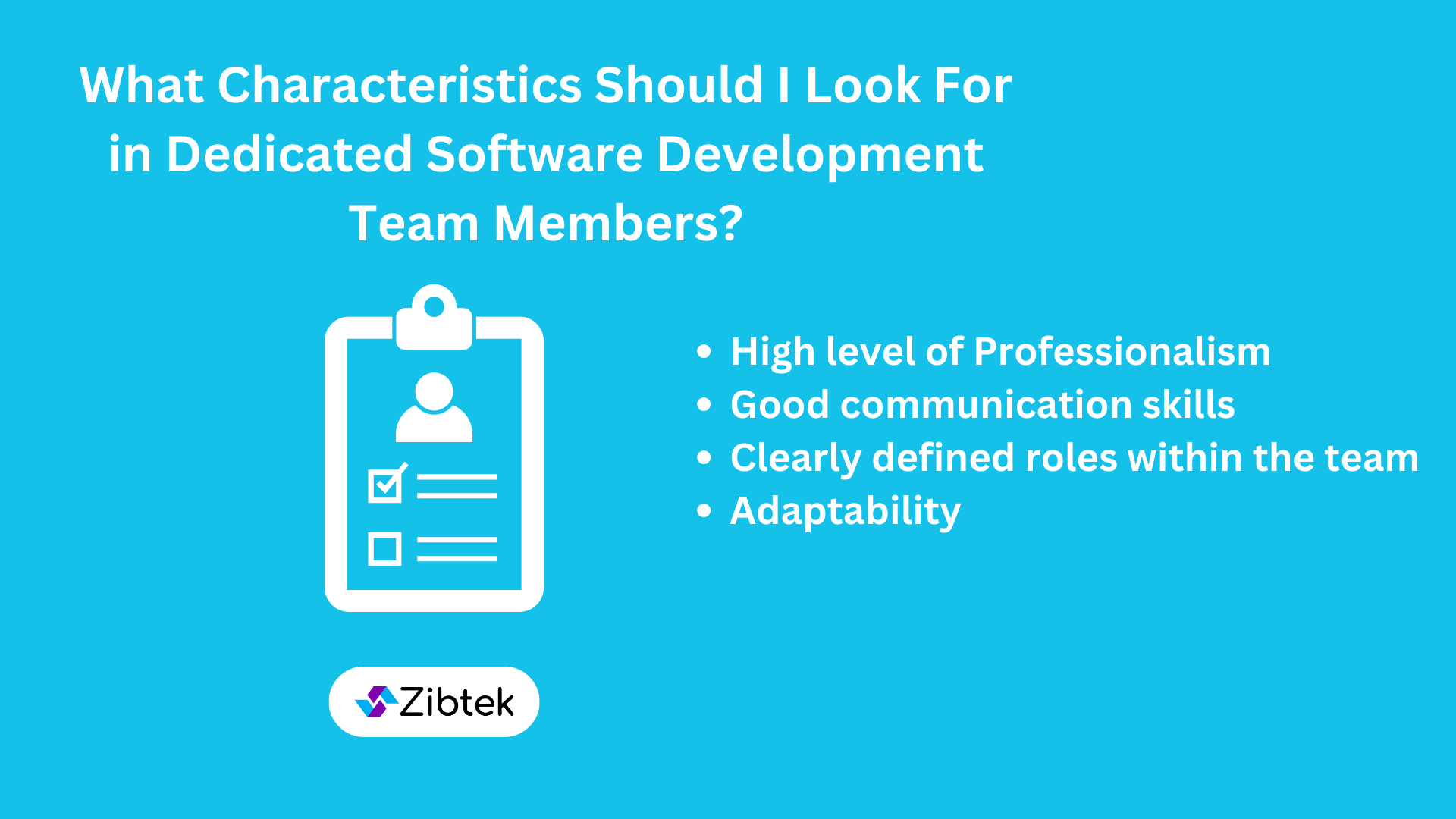 While building such a dream team is challenging, working with an experienced, strategic partner with expertise in creating exceptional software products can ease the process and significantly increase the odds of success.
Where Can I Find the Right Talent for My Software Development Project?
Competition in the tech market can be a major barrier when looking for skilled developers. Fortunately, this isn't true with dedicated teams, where you have access to a global talent pool that allows you to choose the perfect team to meet your needs.
To build your team, start by sourcing dedicated software developers with the "right" skills to complement your in-house capabilities. At Zibtek, we work with you to pick team members from a talent pool of software engineers and designers with the background, technical skills, language level, and soft skills most suited to your project.
We help to seamlessly integrate our team into yours, appoint a team leader with a solid technical background, and establish clear communication channels to ensure everyone's on the same page. Our expertise in managing dedicated teams enables us to efficiently handle resource allocation, project timelines, and quality control. You can be confident you're building a team skilled in technology and aligned with your goals and culture.
How Much Should I Expect to Pay a Software Development Team Member?
It's probably no surprise that labor costs are the most significant expense of most software projects.  In the US the rates can range from $50-$120 an hour depending on experience level. The good news is that you can significantly lower these costs by forming a dedicated development team instead of adding to your in-house one.
Dedicated team models typically have a simple and transparent pricing structure: monthly payments are based on team size and comprised of salaries and a service provider fee, which includes administrative overhead.
Your actual costs will depend on the project's complexity, the time involved, and where the work is done. For instance, the average annual software developer salary in India is about a tenth of that in the US.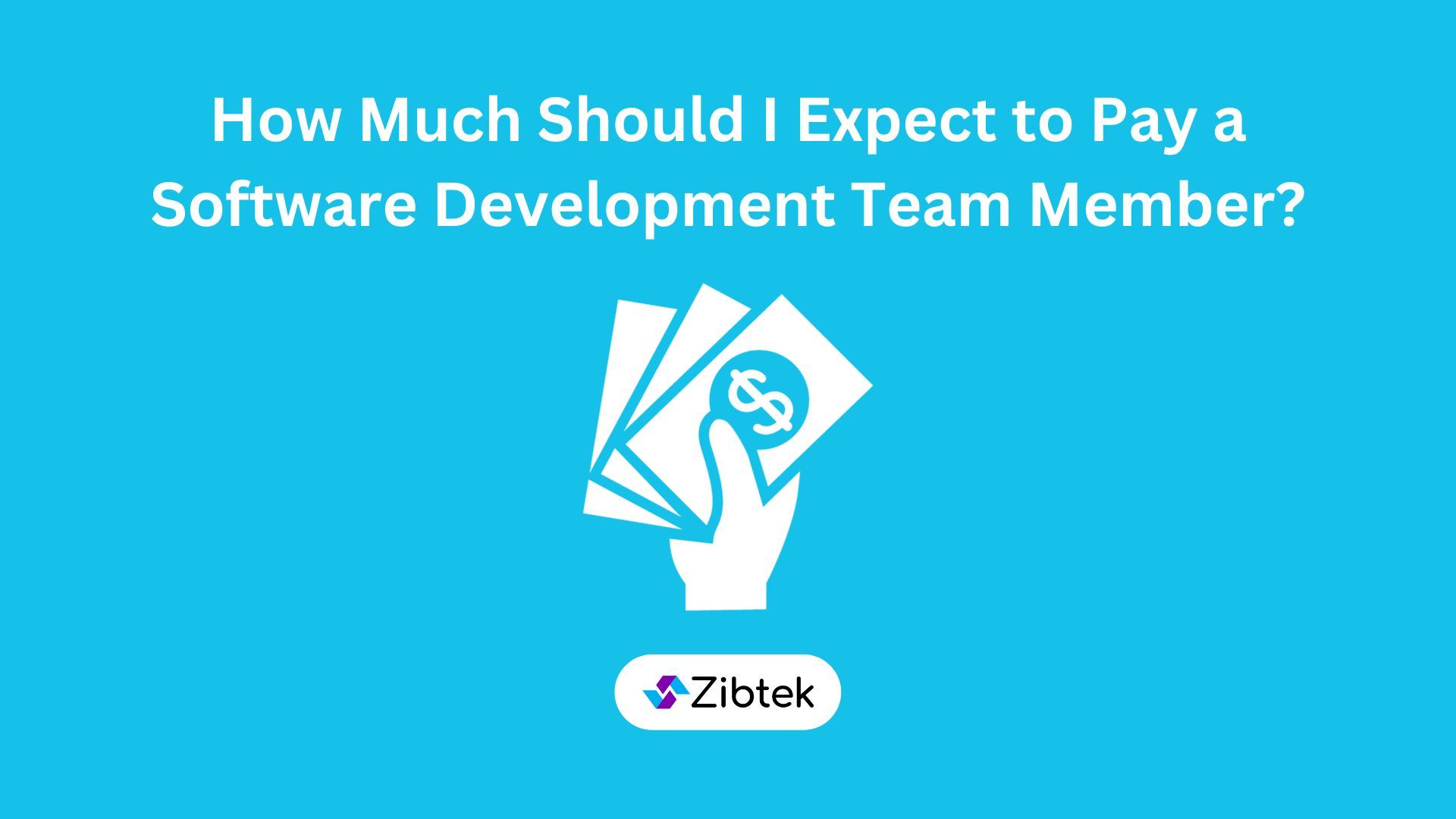 How Can Zibtek Help Me Assemble My Team?
Top reasons to hire a dedicated software development team include:
Working with agile principles.
Scaling your team up or down during the project.
Reducing operation expenses.
Saving time with more flexibility.
As you build your dedicated team, Zibtek is much like a baseball team's general manager. We've been through numerous seasons, know how to spot talent, can manage budgets, and, most importantly, know how to put together a championship team tailored to your objectives. With our proven track record, we help you avoid common rookie mistakes and set you on a path to your industry's World Series.
Ready to step up to the plate and form a powerhouse dedicated software development team? Let us show you how to assemble the right talent by reaching out today to learn more.